5 Easy Steps to Fine Tune Your Family Mission Statement (Life on Purpose Series)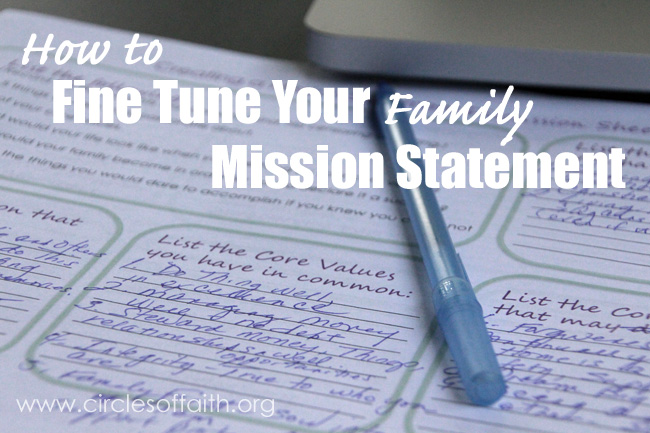 I am doing a series over at Circles of Faith called Life on Purpose.
In my first post, I talked about how my husband and I we started the process of creating a family mission statement. Equipped with oversized sheets of paper, magic markers, and pens, we discussed and wrote down our passions, our core values.
We didn't craft our official mission statement right away. Instead we took the idea of living on a mission a bit further by talking about family culture and what we wanted out family to be known for. Then we came up with practical steps that would make those ideas become a reality. We even got the kids involved!
I was excited about the progress we were making but I was a bit intimidated by the thought of blending each family member's ideas together into a concise statement of purpose. Turns out it was easier then I thought it would be.
So, now I am following up with a post called 5 Easy Steps to Fine Tune Your Family's Mission Statement. I would love for to join me over there to read more about it…